Community Room, Sales Promotions, Sales Promotions & More, Sustainability
At Ikea, Green Remains the New Black
Holiday shoppers' pledge to the planet comes with a show of loyalty to the Ikea brand, too.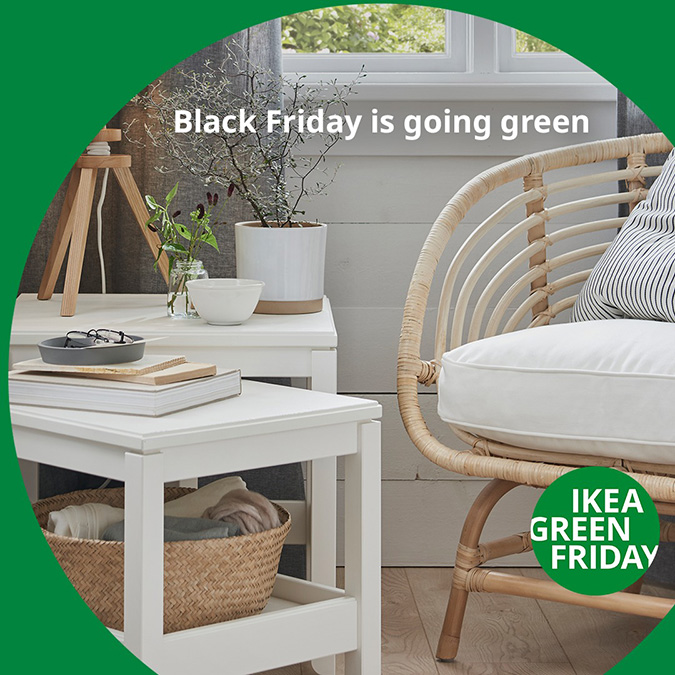 If consumers are as concerned with retailers' ethical governance as they are said to be then Ikea might win its holiday marketing bid. With a twist on an always anticipated promotional classic, the Swedish retailer is running a dual-pronged Green Friday campaign this month and trying to move customers to tie their purchases to a more sustainable mode of living while asserting their brand loyalty. In addition to accessing deals on green products, members of the Ikea Family program can also swap their old furniture for store gift cards at participating locations.
The first steps of the seasonal barter happen online where shoppers need to fill out an in-depth form, providing details on their old furniture and its condition, to obtain an email quote listing the potential buy-back value. Armed with that information and unique buy-back number, they then deliver their assembled furniture to their local participating Ikea store so that an on-site associate can inspect it and confirm its final value. In lieu of cash, shoppers get a store credit for their pre-loved pieces, which in turn will be sold in the store's As-is department.
Ikea launched its Green Friday campaign and Buy Back & Resell perks on November 1, supporting them with online pages and the promotional video that you can see below. The deals end on December 5.
Comments
comments