Décor Themes, Design Studio, Entertainment, Special Events, Visual Merchandising
Sneakerheads Converge at Cockburn Gateway
Visitors will have to shop first if they want to have graphic artists customize their kicks.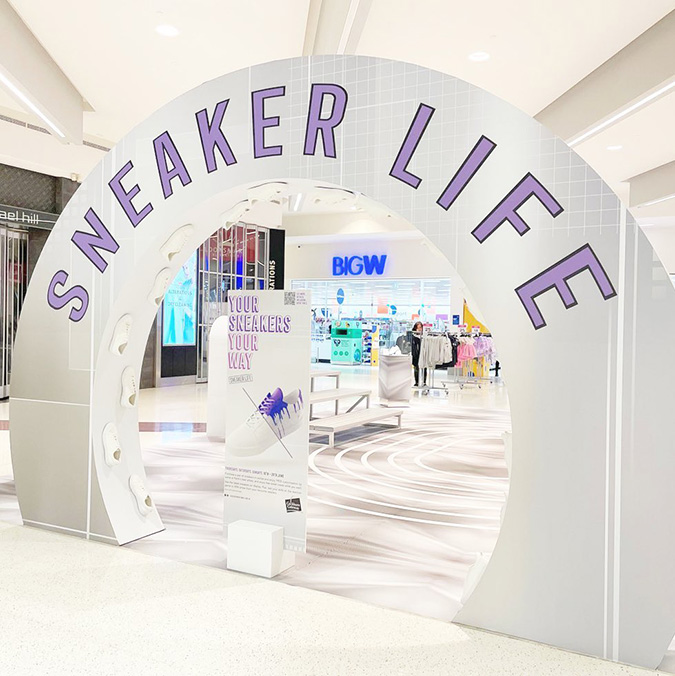 If you want to learn about a retail marketing niche, your best bet is to 'ask the internet.' To be a little more specific, head straight to TikTok. That's where you'll find out from Mikolaj how on-trend Cockburn Gateway's Sneaker Life event is—11,600 people viewed his reel plug, which garnered 1,399 likes.
"It was really cool to see so many epic designs come out of these local artists. I think it'll be something that's super well-received from Cockburn Gateway's shoppers," noted the Perth, Australia, social influencer.
Those artists—Linzi Carter, Morgan Joanel, and Cass Jones—are at the mall through June 26 to customize the kicks that shoppers will have bought at tenant stores. We're talking paint drips, mandalas, monograms, tassels—the works. While the trio creates, customers pass time drooling over sneakers galore that are on display or play a reaction game to win retailer prizes.
"It's no secret that personalization is something customers really value. We wanted to bring this to our shoppers in a way that's unique, encouraging them to showcase their own personal style," said Alexandra McAuliffe, Cockburn Gateway's center manager.
They'll also get a chance to enter a couple of online contests to win either a A$200 Jim Kidd Sports gift card to buy a pair of PUMA sneakers (that one is on Facebook) or a A$250 Nike gift card to spend on-site (this contest is offered on Instagram). In both cases, participants will need to follow Cockburn Gateway, like the contest post, and spread the word via friend tagging or comments.
Comments
comments