Advertising Creative Design, Design Studio, Food & Beverage, Sales Promotions & More
Campaign of the Week: Vive la France!
Le Chocolat Français and TBWA/Paris poke fun at well-known French stereotypes.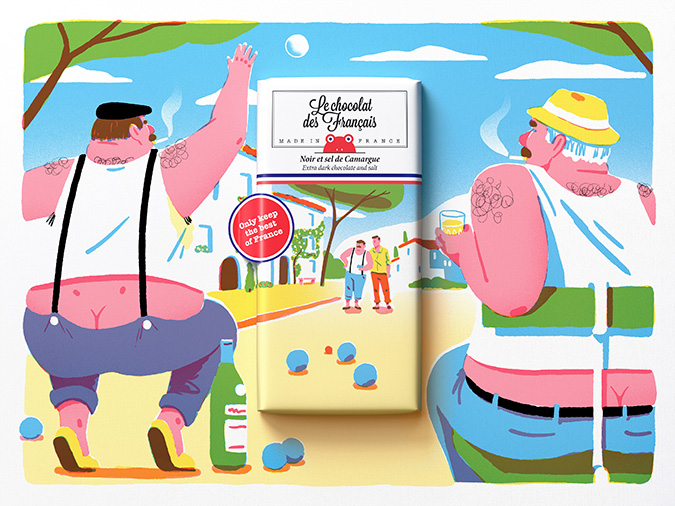 Kisses on a pier, road rage, sexy heels, nights on the town that stretch until sunrise—France has them all and you can pick and choose whatever you want to experience. That's the message that Le Chocolat des Français has for fans of its organic treats and it spells out the "Only Keep the Best of France" mantra on eye-catching packaging and in an ad campaign that the TBWA/Paris agency created. Now that life has returned to normal in the country, the collaborators offer plays on well-known French clichés and the result is a true work of art that has won three accolades at the Cannes Lions, not to mention four D&AD Awards and five awards from Le Club des Directeurs Artistiques.
The Artist Collaborators: Béatrix de Gevigney, Clément Soulmagnon, Laurène Boglio, Hubert Poirot–Bourdain, Leonie Depres, Charlotte Molas, and Simon Bournel-Bosson.
The Tactics Tip: Expecting tourists to return to shop at your center this season? Develop a themed campaign that truly immerses them in your center's community and highlights what makes the property a not-to-be-missed destination. The creative could be used on tourist-focused brochures, vouchers, gift cards, and branded tote bags, as well as for online applications on the web and your social media accounts. Such a visual campaign would also work well during the holidays (think gift-wrapping paper).
(Image credits: TBWA.com.)
Comments
comments