Wedding Biz Is Way Down, but Not Out Yet
Would-be brides and grooms might have to alter or postpone their wedding, but the big day still requires planning.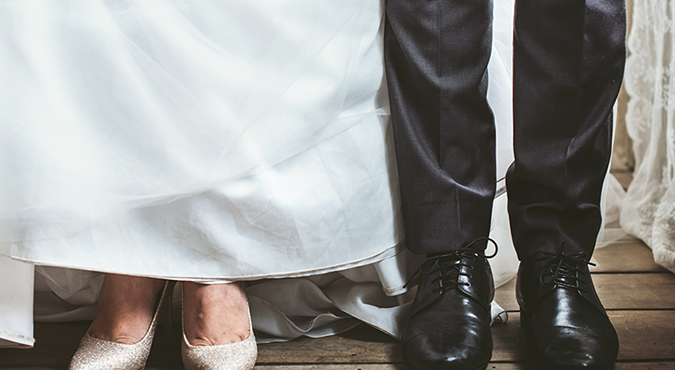 Face masks aren't likely the first items that engaged couples would have put on their bridal shopping lists two months ago, but people adapt. After the shock of a socially distanced Easter, the reality of dissolving wedding plans is setting in. For those who are intent on saying their I-do's this spring and summer, regardless of COVID-19, the Internet is the destination for everything—planning, shopping, the ceremony, the reception, and gifting.
Church, City Hall, a countryside inn, the beach—they all used to be popular venues for weddings. For those tying the knot in 2020, Zoom is now topping the list. Likewise, bridal shops, specialist product suppliers, and service providers are connecting with potential customers online, either through their individual websites, social media, or hubs like TheCompleteWeddingExpo.com. Set up as an alternative to an IRL show, the free virtual event gives brides and grooms in America's Chicagoland a way to interact online with vendors—caterers, musicians, photographers, and videographers. Users register online to receive their passcode to "enter" the venue now through June 1. For residents of the Tri-State Area, AmericanBride.com is the place to visit to reach vendors at the Online American Bridal Show, read reviews, peruse online offers and booking discounts, and even watch live streams of band performances or DJ sets.
The Tactics Tip: Use your shopping center's website and social media pages to rally your local bridal industry vendors, some of whom might be your own tenants. If you have an online gift registry and sell center gift cards, connect them both to the program. As always, give shoppers a chance to co-create the online content, using Facebook and Instagram to share their virtual wedding stories, top planning tips, and candid shots and videos. While you're at it, take a page from the American Bridal Show Company's marketing book and partner with tenants to offer a contest to win a dream honeymoon in 2021. Once you've got this event dialed, it can serve as a template for fall/winter and holiday virtual fashion events in the coming months.
Comments
comments