Food & Beverage, Sales Promotions & More
Mannequin Diners: Ideal Fashion Ambassadors?
The Inn at Little Washington gets creative as its sets to reopen its dining room safely.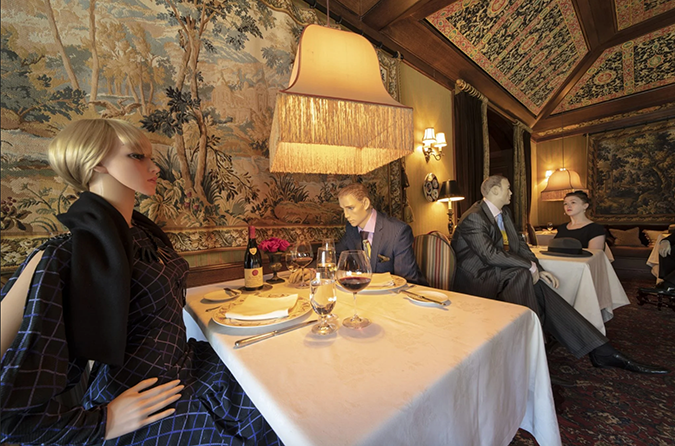 If you think that dining next to a couple of mannequins is a bit creepy, consider the upside: You get to eat out. The Inn at Little Washington in Virginia (USA) will be testing that concept in its restaurant when it reopens on May 29. It's not only a way to welcome customers back without contravening social-distancing rules, but also quite the PR coup.
Chef, Patrick O'Connell, who reportedly majored in drama in college, obviously still has a knack for staging. Working with the Village of Shirlington's Signature Theatre, he got some life-size dolls dressed up in fancy 1940s-era outfits and will use them to fill 50% of the restaurant's seats. Servers will be tending to their "needs" along with those of other real guests. And the theatrics don't end there. O'Connell has even made Marilyn Monroe and George Washington masks.
Luckily, the posh three-Michelin-star inn's Washington home has yet to see any COVID-19 case, so the destination has a pretty good chance of attracting local guests and perhaps even some from the greater D.C. area. Whatever happens, it will be ready to keep the place spotless and, hopefully, virus-free. The sanitation crew is sticking to its deep-cleaning protocol, infrared light testing and all.
The Tactics Tip: If you're going to encourage your shopping center's eateries to try using mannequins to fill up their dining rooms safely, then you might as well extend that strategy with a cross-category twist. Work with your fashion tenants to dress up the dolls in the latest seasonal styles and add little vignettes or QR codes on the tables to connect shoppers to the center's brands, boutique websites, and e-commerce portal.
Comments
comments