Community Room, Technology Lab
FrontRunner Presses the Digital Ad Reset Button
As client retail brands put their ad plans on hold, this Canadian tech firm is putting its digital network to CSR use.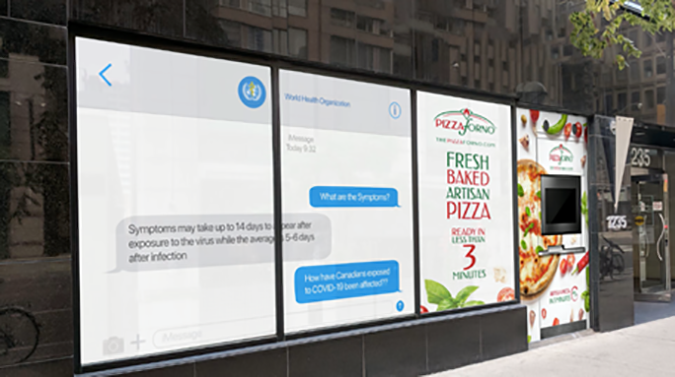 It took FrontRunner Technologies just 24 hours to turn its WindowFront tool from idea to reality and it's now ready to help educate and inform Toronto residents on COVID-19. The Canadian company's messaging platform, whose digital displays are set up in city locations that are close to essential services, offers continuous updates on the pandemic and is designed to look like a text message exchange with the World Health Organization, the Government of Canada, and the Public Health Agency of Canada.
"As both our city and our nation come together during this global pandemic, we are offering support where we can—a platform for vetted, timely information," explained Nathan Elliott, founder and CEO of FrontRunner Technologies.
"Social distancing is affecting digital out of home as brands opt to re-schedule campaigns for later in the year. As a result, there is an opportunity to deliver emergency content to the screens that were previously booked."
So, instead of viewing the latest collection by Adidas or following a SWAT Health workout, passersby get up-to-the-minute information on travel advisories and rules, where to reach out for help, how to self-assess COVID-19 symptoms, and more.
"FrontRunner has taken steps to cross-reference its street-level real estate assets with essential services in downtown Toronto. The call has gone out to our real estate partners, asking them to assist by granting us access to their empty retail spaces for the installation of the WindowFront messaging platform. The support has been pronounced," noted Matt Stefan, chief of marketing technology.
The Tactics Tip: Your center's marketing team can work with digital display partners and local authorities to coordinate the delivery of timely COVID-19 PSAs. Support that effort via the property's digital screen and info kiosk network, as well as through messaging on its website, blog, and social media pages. To avoid overwhelming any visitors you might have (either on-site or online) with too much information, alternate content display between full screen and ticker mode. Be mindful of the power of imagery in time of crisis as well. The idea is to inform, not alarm, customers and tenants.
Comments
comments