Career Search, Shopping Center Business
BOXPARK Seeks Marketing & Events Manager
Opened in 2011 in London's Shoreditch district, BOXPARK is touted as the first pop-up mall made from refitted shipping containers.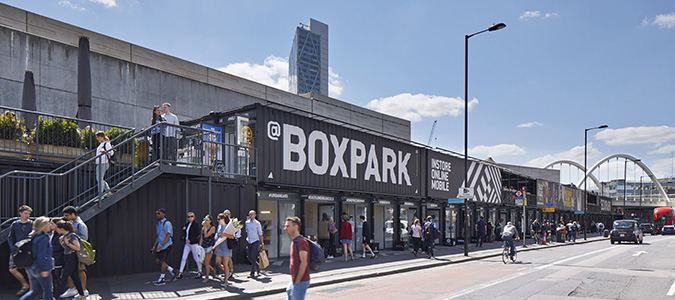 BOXPARK is recruiting for a special person to join its team as Marketing and Event Manager. The successful candidate will be responsible for coordinating all the Marketing and Event activity at BOXPARK Shoreditch, and potentially future London sites. This is a fantastic opportunity for someone who works and thrives as part of a busy team, taking a hands on approach to their work and possessing the drive to exceed all targets and expectations.
The ideal candidate will have exceptional communication and presentation skills
and be highly organized with a proven track record of running events, and digital marketing campaigns across all social media sites with the primary focus on increasing footfall and digital traffic to BOXPARK Shoreditch site and BOXPARK Marketplace our online business.
Reporting to the Retail Director, the Marketing & Events Manager will be responsible for:
• Devising and coordinating weekly events on-site and on time
• Proposing and securing event sponsors
• Researching, planning and implementing weekly, monthly and seasonal marketing campaigns and event programming across web, email database and social platforms.
• Marketing all events via newsletters and on BOXPARK's social media feeds
• Liaising day to day with tenants about events, PR and marketing activities
• Maintaining and developing tenant/brand relationships
• Supporting the retail director and general manager
• Driving digital traffic and publishing content on our website.
• Planning and scheduling all social activity ensuring steady growth and engagement across key metrics throughout all BOXPARK's social platforms whilst maintaining consistent brand voice and attention to detail.
• Compiling weekly reports, highlighting KPI's and presenting to the BOXPARK team making recommendations for the future strategy of BOXPARK SHOREDITCH digital campaigns
SKILLS REQUIRED
• Minimum of three years previous Marketing or Event marketing experience
• Digital marketing experience across all BOXPARK digital platforms including Online, email, Facebook, Twitter and Instagram
• Exceptional communication and presentation skills and a hands on, can do attitude and willingness to learn and adapt in all kinds of situations.
• The successful candidate for the role will be a confident, articulate and highly-motivated
Comments
comments